First Place- Middle School
UN Sustainable Development Goals Addressed
Goal 11: Sustainable Cities & Communities

Goal 13: Climate Action
2020 Youth Design Challenge
This design concept was developed by participants in the Institute's Youth Design Challenge. The descriptions below are from the team's competition entry materials.
School: The Blue School
Location: New York City, NY
Coach: Rob Gilson
Team members: Eleanor Hughes, Mati Swartz
Video Pitch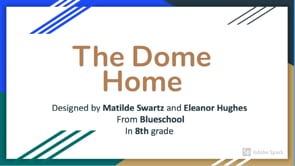 Innovation Details
Team Matinor incorporated inspiration from the multiple organisms to design a home that could withstand extreme weather in the Carribean — a region facing increasing risk from hurricanes due to climate change. The Dome Home mimics the dome shape of an ovenbird's mud nest to withstand high winds, the deep tap root of the longleaf pine to anchor the foundation, and the unique structure of the woodpecker's skull to absorb shock.
What is the problem addressed for this Challenge and how is it related to climate change?
Many places in the Caribbean are devastated by extreme weather and it's only getting worse because of climate change. As the planet is warming due to the greenhouse effect, sea levels are rising, oceans are expanding, and ice sheets are losing ice faster than it forms from snowfall. This is increasing water vapor in the atmosphere. Rainfall intensifies. For example, rainfall from Hurricane Harvey was 15 percent more intense. Due to human-induced climate change, there is an expectation for more frequent category 4 and 5 storms, as temperatures continue to rise.
What does this design solution do? How does it solve and improve a problem?
The Dome Home is designed to be able to sustain extreme weather. Components of nature were chosen that can withstand shock. This house is intended to be built in the Caribbean because that region has experienced more than 25 major hurricanes over the past 40 years, 50% of which, have been in the last 20 years. This means that the Caribbean has become more and more prone to hurricanes as time passes. Living in The Dome Home creates an environment where anyone can live through disastrous hurricanes. Each element of this house is strictly designed to prevent the worst consequences.
How was this solution inspired by nature? What organisms inspired it?
The solution mimics the oven bird's nest and is inspired by the longleaf pine root and the curve of a tree woodpecker skull.