Nucleário system increases survival rate of young trees while reducing reforestation costs.
Benefits
Reduced maintenance
Reduced tree mortality
Applications
Reforestation
Agroforestry
UN Sustainable Development Goals Addressed
Goal 13: Climate Action

Goal 15: Life on Land
The Challenge
A key strategy to mitigate climate change and to conserve vibrant ecosystems is to restore forests by planting trees that absorb heat-trapping carbon dioxide gas from the atmosphere. But reforestation isn't easy. In their early life stages, seedlings and saplings often die because of lack of water, or they are eaten by insects or overrun by weeds and grasses. It's costly and labor-intensive to monitor and maintain plantings to ensure that they survive.
Innovation Details
Nucleário is a circular biodegradable device that surrounds and protects vulnerable saplings. It catches rainwater in an underlying reservoir, where a thin, absorbent layer of material prevents it from evaporating and draining away into the soil. The system makes water more continually available to growing trees. The Nucleário structure also blocks voracious insects such as leafcutter ants. It deters soil erosion and it inhibits weeds from overrunning and outcompeting the saplings. In short, Nucleário provides a mini-oasis for nascent trees that enhances their survival rates without using any harmful chemicals, while also decreasing maintenance costs.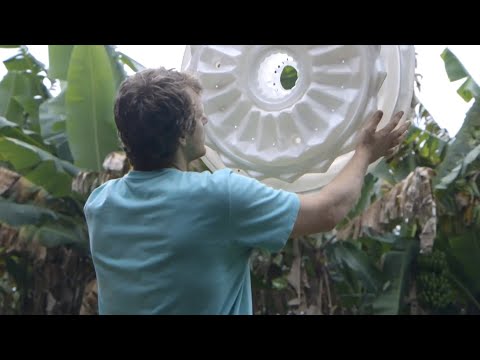 Biological Model
The Nucleário design is inspired by a variety of plants and natural materials found on forest floors. The general structure is based on bromeliads, bowl-shaped plants whose leaves catch and store water so that it doesn't leach away quickly into the ground. Nucleário's wide base also mimics the performance of leaf litter, which covers the ground around seedlings, deterring evaporation and soil erosion and creating a barrier for invasive insects and weeds.
Ray of Hope Prize®
Nucleário was selected as the winner of the 2018 Ray of Hope Prize®. This annual award celebrates nature-inspired solutions addressing the world's biggest environmental and sustainability challenges. Created in honor of Ray C. Anderson, founder of Interface, Inc., and a business and sustainability leader, the $100,000 Ray of Hope Prize helps startups cross a critical threshold in becoming viable businesses by amplifying their stories and providing them with equity-free funding. The prize shines a light on the innovative, nature-inspired solutions that we need to build a sustainable and resilient world.