Cypris Materials creates structural color coatings that reflect UV and infrared light without toxic chemicals or dyes.
Benefits
Non-toxic
Reduced energy use
Reduced cost
Applications
Automotive
Construction
Consumer products
UN Sustainable Development Goals Addressed
Goal 9: Industry Innovation & Infrastructure

Goal 11: Sustainable Cities & Communities

Goal 12: Responsible Production & Consumption
The Challenge
Coatings and color are restricted by aesthetics, ease of application, expense, range, and toxicity. Innovation in industries from various sectors like automotive, construction, and consumer products are all similarly limited by their surface chemistry. In industry, colors are typically produced by the inclusion of potentially toxic pigments, dyes, and binders within the coatings.
Innovation Details
Cypris Materials has developed a tunable structural color coatings made from commodity materials. When formulated and applied onto a surface, the coating self-assembles into a robust nanostructure that reflects UV, visible, and infrared light, eliminating the need for toxic pigments and dyes. The simplicity of this approach makes it possible to replace multimillion-dollar manufacturing equipment with a simple paint brush. These coatings are designed to replicate the naturally-occurring nanostructures that produce the brilliant colors observed in butterfly wings, peacock feathers, and opal gemstones.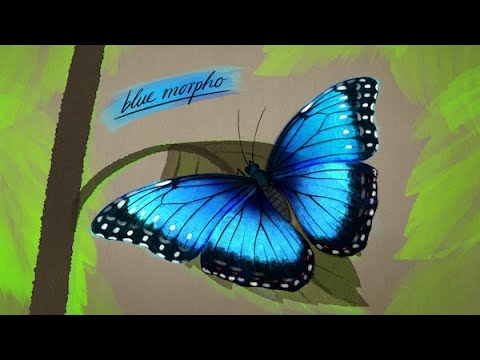 Biological Model
Blue morpho butterflies do not use to create the bright blue color on their wings. Instead, their wings have a layered microstructure that causes light waves that hit the surface of the wing to diffract and interfere with each other, so that certain color wavelengths cancel each other out while others, namely blue, are intensified and reflected.
Ray of Hope Prize
The Ray of Hope Prize® celebrates nature-inspired solutions addressing the world's biggest environmental and sustainability challenges. Created in honor of Ray C. Anderson, founder of Interface, Inc. and a business and sustainability leader, the $100,000 Ray of Hope Prize helps startups cross a critical threshold in becoming viable businesses by amplifying their stories and providing them with equity-free funding. The prize shines a light on the innovative, nature-inspired solutions that we need to build a sustainable and resilient world. Cypris Materials was selected as the Runner Up for the 2020 Ray of Hope Prize.