3D printed concrete from RMIT University is constructed with helicoid layers to increase strength.
Benefits
Increased strength
Increased resiliency
Scalable
Applications
Building materials
Bridge design
UN Sustainable Development Goals Addressed
Goal 11: Sustainable Cities & Communities
The Challenge
3D printed concrete has the potential to make building structures more efficient and sustainable by saving time, money, and materials. However, due to the layer-by-layer printing methodology, the concrete often has planes of weakness.
Innovation Details
The 3D printed concrete is laid in a helicoidal, twisting pattern rather than parallel lines, similar to the design of the lobster shell. This methodology better integrates the layers of concrete as it sets. Additionally, the concrete mixture is reinforced with steel fibers that reduce defects and porosity, allowing the concrete to harden more consistently to create a better base for the layers above.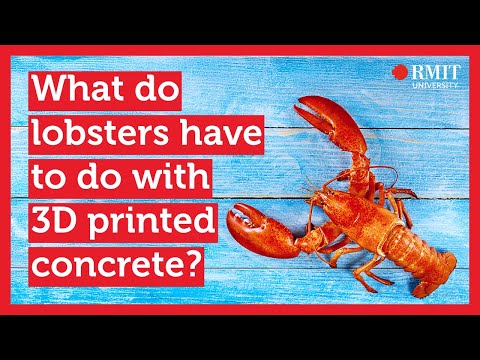 Biological Model
Lobster shells are strong, flexible and resistant to cracking. The shell is made of fibers arranged in the Bouligand structure, a structure similar to a spiral staircase. This structure helps distribute an impact force or the bite of a predator throughout the shell, lessening the negative effects.
See how other organisms use the Bouligand structure